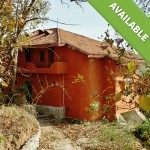 Share for Sale: Beautiful Large Custom Home & Lot (Available)
Enjoy the best view on the ranch! This two-story home comes with a super large balcony overlooking the river and ranch. See for miles and miles from up above! The home is about 95% complete and just needs the right owners to personalize it with paint and minor touch ups. All the major work has been finished.
There is almost 3,000 square feet of living space, including the basement garage and large terrace with a wrap around balcony! Speaking of the garage, recently, a custom sliding garage door was installed, keeping your vehicle and personal items secure! This home could also make the perfect B&B or getaway retreat house/hotel.
There are literally thousands of possibilities…
More info:
3 Bedroom (very large master)
2 Bathrooms (both large, with outdoor shower & laundry)
Super large kitchen and dining area w/wood stove and gas stove hookup
6 x 6 meter garage with beautiful custom sliding garage door
6 x 9 meter balcony/terrace
Cement furniture
Best view on the ranch!
Could this be yours? Inquire today to find out how easy it is to own a share in Rancho ∞ Amigos for generations to come!!!
Below are photos of this amazing opportunity! Click here to see how we build our homes!
Contact info@ecovillagemexico.com for more details
Contact info@ecovillagemexico.com for more details
Contact info@ecovillagemexico.com for more details
Contact info@ecovillagemexico.com for more details
Contact info@ecovillagemexico.com for more details
Contact info@ecovillagemexico.com for more details
Contact info@ecovillagemexico.com for more details
Contact info@ecovillagemexico.com for more details
Contact info@ecovillagemexico.com for more details
Contact info@ecovillagemexico.com for more details
Contact info@ecovillagemexico.com for more details
Contact info@ecovillagemexico.com for more details
Contact info@ecovillagemexico.com for more details
Contact info@ecovillagemexico.com for more details
Contact info@ecovillagemexico.com for more details
Contact info@ecovillagemexico.com for more details
Contact info@ecovillagemexico.com for more details
Contact info@ecovillagemexico.com for more details
Contact info@ecovillagemexico.com for more details
Contact info@ecovillagemexico.com for more details
Contact info@ecovillagemexico.com for more details
Contact info@ecovillagemexico.com for more details
Contact info@ecovillagemexico.com for more details
Contact info@ecovillagemexico.com for more details