The Ecovillage Project – Building a self-sustainable community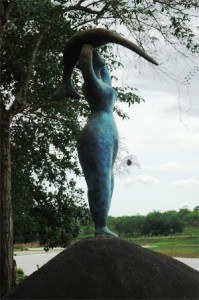 Have you been searching for that special place where you can find equilibrium between man and nature? Perhaps you have been searching for a location where wildlife surrounds you – where you can finally have the organic garden that you have always wanted, and to be able to drink fresh mountain spring water, free of chemicals, chlorine, and fluoride, and to live in a community with others who think this way.
Let your search end here. Welcome to Rancho ∞ Amigos Eco-village, which began with an idea over 5 years ago. The ranch is located amongst 300 hectares (700 acres) of pure forest and wilderness near the opening of a river that feeds one of Mexico's nicest and best kept secrets – Lake Cajon de Peña, in Tomatlàn, Jalisco Mexico.
Our ranch is strategically located far enough from the hectic city life, but not too far in case you feel like spending a day at the beach or weekend in Puerto Vallarta. We are located approximately 65 miles (108 kms) from Puerto Vallarta, and only 30kms from the coast providing access to many beautiful beaches.
We invite you to come and spend a day or two with us and allow yourself the opportunity to truly experience the freedom and beauty of our wonderful planet.