If you have an apple and I have an apple and we exchange apples then you and I will still each have one apple. But if you have an idea and I have an idea and we exchange these ideas, then each of us will have two ideas.
-George Bernard Shaw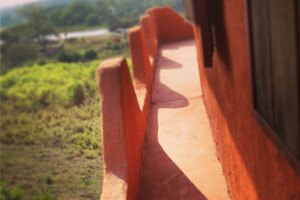 The idea driving us is to create a community & ecovillage on a self sustainable farm, where everybody becomes part of the well-being of the surroundings and neighbors. We started the project by planting thousands of fruit trees as it will take years for them to mature and we began constructing our homes using simple physics to keep them cool and ventilated although we are in a tropical climate.  We built with an excessive zeal on quality of marterials thought to make the house last centuries almost maintenance free… we believe that building a home that will last generations goes together with the concept of ecology, as todays consumerism dictates to throw out the old as it no longer serves the purpose since the materials used were only thought to last a couple decades.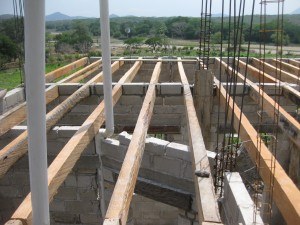 Therefore, the houses constructed on the ranch, are built to last, while blending in harmony with the surroundings. We do offer flexibility in the overall design of your house, we can help you buiild it and we even have specially designated areas where you may build your home from materials like adobe re-enforced earth.  All houses must have a root cellar as it is an essential element of a self sustaining home and for food conservation and preparation.
Each share is assigned a magnificent waterview lot, on which you can create your ideal living space, considering your needs as you can either live on the ranch permanently or only decide to come for vacations or weekends with family and friends.
Main Materials Used
Cement
Steel Re-bar
River Stones
Cinder Blocks
Coconut Wood Beams
Parota Wood (support above windows/doors)
It's important to note that we do not cut down trees on our ranch to build homes. Any wood used comes from trees already dead and/or fallen. Or, from coconut farms that are replacing their trees.
Design
We design our homes to generally blend in with the surrounding area. To achieve this, we use nature to guide us. The paint used is raw acrylic mixed with the natural earth around the home to form natural looking paint colors. As you can see, we try to keep our houses looking modest, while maintaining a natural look. We try to use our materials to create furniture, rather than buying it. We make use of space the best we can, and we don't like to waste anything!
Keeping Cool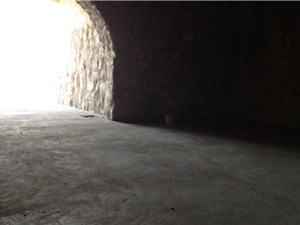 Unlike typical Mexican homes, we like to build our homes with basements and higher than usual ceilings. A basement helps keep food cool and fresh (root cellar / wine cellar) and also helps keep the rest of the home cool. We achieve this by installing ventilation from the basement to the upper floors. This, along with properly ventilated upper floors and high ceilings, helps create a natural air conditioning effect. Even our basement ceilings are high!
Infrastructure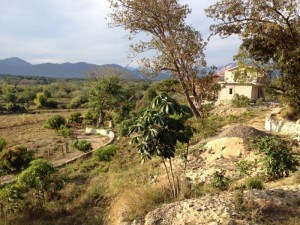 Around our farm, we started first by building infrastructure. Without roads, warehouses, and most important – water, we couldn't have started anything. Hundreds of fruit trees were planted years ago, roads were carved out of the mountainside, crops were planted for livestock, gorgeous natural winding stone walls were created, and a warehouse was constructed to begin the hard work to come. We have many common areas including an outdoor kitchen with a pizza oven and large covered eating area, a huge veranda/rotunda for dancing  and entertaining, a small park for kids, and we are working on other things like a building a library and continuously planting fruit trees every day.
So you want to build an earth ship or true eco-home instead?
Although we prefer that you build your home using materials and design mentioned above, we do realize some people want an alternative type of home. Since our land is over 300 hectares, there is plenty of space for all types of homes and we have dedicated areas for these kinds of homes and projects. Choose your lot and start building! The only thing we ask is that we see your project plans before building.
Some types of eco homes you could build would be (but not limited to):